PCW Roster Chat
Posted 10 January 2018 - 08:23 PM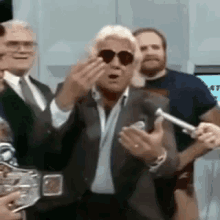 ---
Posted 11 January 2018 - 10:02 PM
Excited for the angles/show tonight. Low-key had a bit of writers block at first but hopefully I'll get back into the swing of things. Good luck to all.

---
Posted 13 January 2018 - 10:29 AM
Good lord, alright. Turmoil's up!

I apologize to everybody for the late show, quite a few staff members have been out of action this week so that caused some massive delays. With that said, though, huge thanks to Levi for writing all three matches and making it possible to get the show up, especially with how much effort a lot of you put into angles for this week. Some really good ones on the show and it's a shame it was so late, but unfortunately this week got hit hard. Thanks again to Levi for saving the day.

On a side note, to Sonya Deville's handler, please contact me ASAP. Your request wasn't missed or ignored, I just wasn't sure how to handle it and didn't want to delay the show any further. If you can shoot me a PM or something, we'll figure it out and I'll get it added into the show as soon as humanly possible.

---
Posted 13 January 2018 - 10:43 AM
The real hero puts the show together. That's never been a job for me
---
Posted 13 January 2018 - 11:42 AM
Huge thanks to both Death and Levi for their contributions this week, as well as to Kyle (Betty Cooper), who I noticed offered to help on Discord.

And to everyone who watched and waited, I thank you for your patience, and apologize for the delay.

Now, with that being said, this incident has brought up a couple things I think we need to address.

1) Match writing. This is something that's been discussed on and off for a while now, but I think it's time we start moving toward summarized matches (as seen in this week's Turmoil), at least for the weekly matches on Turmoil and that aren't apart of a storyline or what have you. Ultimately, I think that could be an easier work load for us to tackle, and at the very least is worth a short-term trial. Which leads me to my next point...

2) We need writers. Even with a move to shorter, summarized match-ups, this is not - nor should it be - a job for only one to three people. It takes more than that to keep things running smoothly, and in a way where no one person is taking on more stress or work than they have to. So if anyone is interested in writing, keeping what I said above in mind, please contact me, or say so here.

---
Posted 13 January 2018 - 01:02 PM
Quote
I demand my champions actually defend their championships. Hell, I even go as far as to say I DEMAND WE BRING BACK EMPIRE!
WHEW, we've decided to stan Cody Rhodes forever.
The segments for Turmoil this week were
fantastic
and made up in a great way for the lack of written-out matches. Literally all of them were so good. I'm so excited to see Kelly/Stephanie back in the fray and Summer Rae already looks pretty promising/messy. Cody Rhodes' character is a hoot and Lesnar/Undertaker is a left-field surprise, but a welcomed one, no less! Hopefully we'll get our writing sitch sorted and come back even harder next week, as the team is really out here ready to play to ball.
---
Posted 13 January 2018 - 07:55 PM
damn dood show, despite the mishaps, and delays. I def agree we need more writers. I'm down to do some KO matches, cause I literally can't w these summaries. Obvi it makes sense as to why we do it, but the matches are 85% the best part of the shows (if written properly) shoutout to death and levi btw

---
Posted 13 January 2018 - 09:07 PM
I'll be taking up matches when I'm free, so, things will start to change.

It's the first show back after a few weeks, things happen and people have to gear back up into including RPing into things. It'll take us a few weeks to really get going but we will.

---
Posted 13 January 2018 - 10:32 PM
It was on the cards in truth, we'd been deathly quiet all week
Ultimately, the state of the fed is always a reflection of the care and dedication we as a community commit to it. Hopefully this is the kick we all needed to remember what we need to do to make PCW tick; this is a pretty sweet hobby, after all
I know we have a booking thread, but while I'm here, if there's going to be a card next week, might be best to leave me off it. Gonna be struggling for time now that I've lost my Saturday writing window.
---
Posted 13 January 2018 - 11:28 PM
Alright, so. With the way this past week went, I wanted to leave the option to those who would be RPing and such. We can either have Turmoil on Friday of next week (1/19), orrr we can have this card be for the following Thursday (1/25). In case of the former, the card for the following Turmoil would go up Thursday night, once deadline is up and matches are judged. It's up to you guys, though.
Live in HD from the Richmond Coliseum in Richmond, Virginia!
MAIN EVENT
World Heavyweight Championship #1 Contender's Match
Triple Threat Match
Adam Cole

vs.

Braun Strowman

vs.

John Cena
MIDCARD
Singles Match
Bayley

vs.

Charlotte
OPENER
Singles Match
Carmella

vs.

Xia Li
---
Posted 14 January 2018 - 02:45 AM
I say have it pushed to (1/25) to give people more time and to get everyone back into routine

Shun by those of the norm I am an outsider. Constantly resisting the status quo. To be labelled as ill-formed. Most avoid my individuality, keep to the everyday flow of sheep. So here I stand my ground. Show the world my darkness. Although unwanted, it holds true. Wanting me to tear it off they urge me to follow, but this I say is to you: I'd rather be a BLACK SHEEP away from the flock escaping all of the lies. Beware those with even the finest fleece for underneath all that wool hides a Wolf in disguise.
---
Posted 16 January 2018 - 01:37 PM
If anyone wants to angle with PCWs resident Diva let me know

Credit Zach
---
Posted 16 January 2018 - 05:05 PM
Lil' Miss Bliss available as well

Big things have small beginnings...
Credit to Zach for the Signatures
---
Posted 16 January 2018 - 05:52 PM
As is Adam Cole (
baybay
) - and I'm open to p much anything, so. If you've got anything at all in mind, hmu
---
Share this topic:
---
1 User(s) are reading this topic

0 members, 1 guests, 0 anonymous users