BASICS
name: Minoru Suzuki

height: 5'10

weight: 215lbs

hometown: Yokohama, Kanagawa, Japan

disposition: Heel

character description: He's the original badass of Professional Wrestling, The Man With The Worst Personality In The World - Minoru Suzuki has become somewhat of a legend in Pro Wrestling over the years. He made his name by being absolutely ruthless in ring with his submission offense and really being able to break down an opponent by using precise attacks on the body. He's also known to have a bit of a psychotic side to him, and there's something dark that fills the room whenever he enters. He's the founder of 'Suzuki-Gun', which translates to Suzuki Army - a squad of renegades who all share the similar 'make my opponent remember me' tactics in the ring. He's come to PCW.... for who knows why?


MOVE SET
finishing maneuver(s):
» Gotch-Style Piledriver
» Sleeper Hold

signature maneuvers:
» Cross Armbreaker
» Heel Hook
» Slaps/Chops
» Octopus Hold
» Joint Manipulation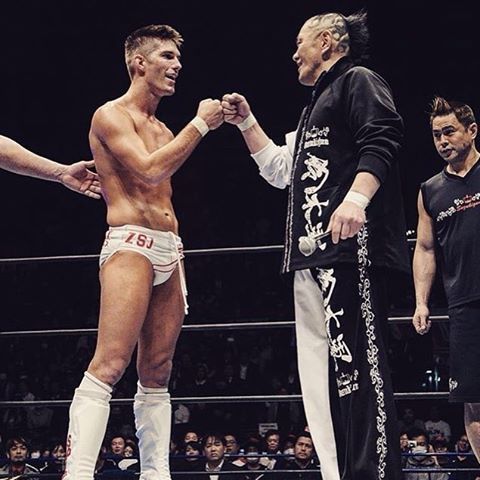 BASICS
name: Zack Sabre Jr

height: 6'0

weight: 187lbs

hometown: Kent, England

disposition: Heel

character description: The most handsome man in all of Professional Wrestling (and he knows it) - Zack Sabre Jr is a dominant name in the United Kingdom when it comes to Pro Wrestling. He's brought back the style of Johnny Saint and the other old time UK Wrestlers, and has since evolved it under the tutelage of Minoru Suzuki to be more hard hitting and long lasting. He's very confident in himself all around, and often feels as though he shouldn't be wherever it is he is at the very moment.
Rather stuck up and arrogant - but that's probably because he's vegan too.
MOVE SET
finishing maneuver(s):
» Article 50 (Cross Armbreaker)
» Young Boy Killer (Modified double underhook guillotine choke)
» Sabre Driver (Double underhook brainbuster)
» CFS1 (Back mounted double armbar)

signature maneuvers:
» Bridging Dragon Suplex
» Penalty Kick to the opponent's back/chest
» Rolling Elbow
» Kimura Lock
» Any Submission you can find/name

ROLEPLAYING
introductory roleplay:
OUT OF CHARACTER
name: Rob

e-fedding experience: I mean...

staff experience: Yea...

how did you find pcw?: Yea....